ALTだよりバックナンバー
芦間高校のALT、アリソン先生(2007年8月〜2009年7月)のHP通信。
We love Ali.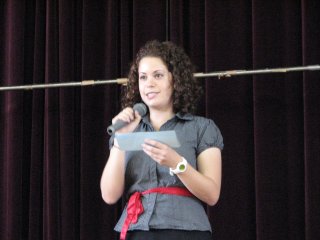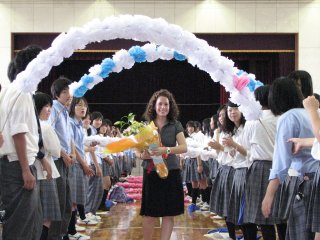 ---
A letter from Allison
芦間高校のアリソン先生からのメッセージ。
23 Last day... 2009年07月29日(水)
Hey Ashima,
Finally my last day has come! I can't believe it!
Saying goodbye is very sad, so I want to say "see you later!"
I will never forget the wonderful memories from my 2 years at Ashima and in Japan. I will definitely come back to visit someday!
Everyone, study hard and good luck!
I made a special e-mail address for Ashima students and teachers to use... please send me e-mail! ashima.daisuki@gmail.com
See you again soon, ok?!
Love,
Ali
---
22 WOW! THANK YOU! 2009年07月22日(水)
Hey Ashima,
The only thing to say is... WOW! THANK YOU! This morning's goodbye party was very very very special. I think today is the best day of my 2 years in Japan!!!!!
Seeing everyone's smiles and messages in the Video Letter was great. I was very very nervous to give my speech in Japanese, but I did it!
The "We Love Ali" picture is AMAZING! THANK YOU!
I have never felt so much love before... I will never ever ever forget today. Thank you so much, everyone!
Special thank you to 3-4 for a fun goodbye party :)
Love,
Ali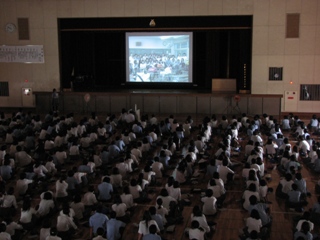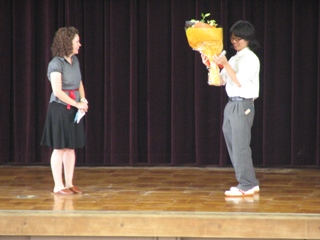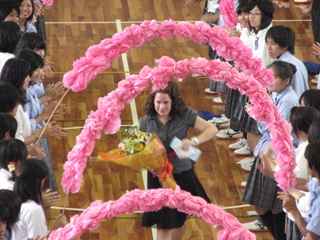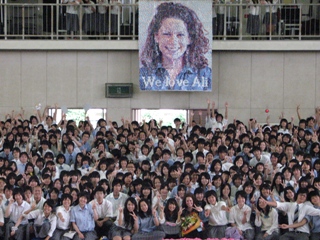 ---
21 Busy busy busy! 2009年07月15日(水)
Hey Ashima,
I'm sorry, it has been a long time since I wrote on this blog! Lately, I have been very busy preparing for... going home :( I will leave Japan on July 30th. It's too soon!
This week I have my last lessons with the wonderful 1年生 English I classes, and EC with 2年生。 My last day of class will be next week; OC with 3年生。 I will definitely cry on my last day of lessons!!!!
This week I must finish cleaning my apartment and packing my things. I also want to work hard to organize files for the next ALT. She will come from America too! Everyone, please enjoy studying English with her!
Today I had a special lunch with English Club... thank you everyone!!!
Talk to you later,
Ali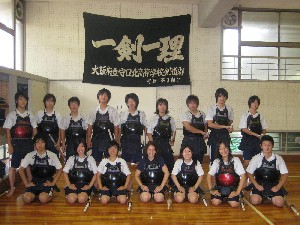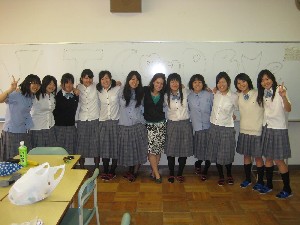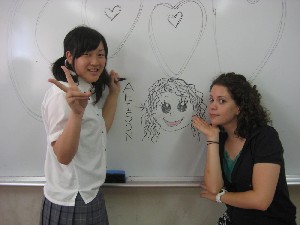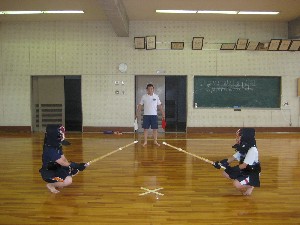 ---
20 AMAZING!!!! 2009年06月10日(水)
Hey Everyone!
Yesterday's Sports Festival was WONDERFUL! It was FANTASTIC! Lots of FUN! etc...
My favorite part was the performances and seeing everyone in their costumes. Thank you for taking many many many pictures with me :)
Most importantly, THANK YOU to 青団 for inviting me to join you... I had a great time with you all and it is a wonderful memory that I will never forget!!! :) Congratulations on WINNING!
At the end of the day, during the 団長 speeches, I cried! I cried for two reasons... 1) it was my last big event at Ashima and I was sad for it to end, and 2) I was moved to see that every team had such great team spirit, thanks to the hard work of all the 団長!
Every student did their best in every relay. I was so happy to be part of Ashima's Sports Festival!
おつかれ to everyone! Great job!
-Ali
PS - I have many many many many pictures so I will add them here later!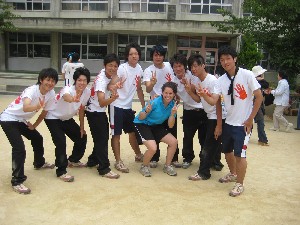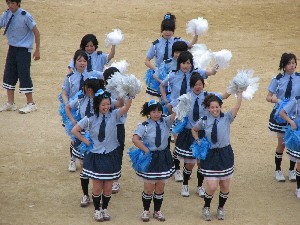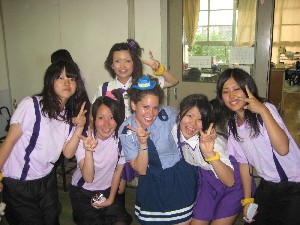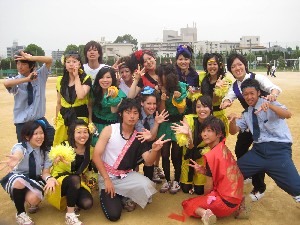 ---
19 It's June already!?? 2009年06月01日(月)
Hey Ashima,
Today is June 1st, and that means I only have 2 more months left in Japan! I will leave Osaka on July 30th to go back to America. I can't believe it!!!!
Anyway, this week everyone will start practice for Sports Festival. I am really looking forward to it because I will join in the performance again. This year I am joining Class 4... GO BLUE!!!
See ya later,
Ali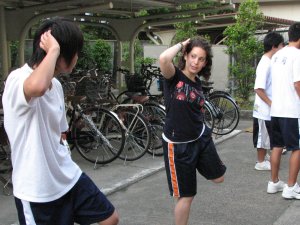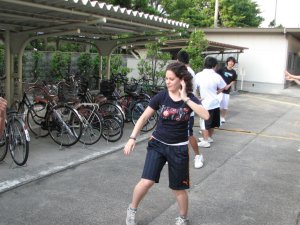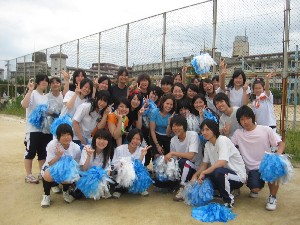 ---
18 Do You Have the Flu? 2009年05月19日(火)
Hey Ashima,
I was riding to school on my bicycle on Monday morning and I didn't see any Ashima students around Moriguchi, like I usually do. I thought, "Oh no! I must be very late!"
When I got to Ashima's front gate, I saw that school was closed! However, teachers still must work this week, so I am here too :) Homeroom teachers are very busy calling all of their students on the phone. We must make a new schedule for tests, classes, Sports Festival, etc.
I hope no one is sick with the flu, and if you are sick... get well soon!
See you next week :)
-Ali
---
17 April Events 2009年04月27日(月)
Hey Ashima!
This month, Ashima's sports clubs are playing in many big games and tournaments. Good luck to every team!!
Yesterday, I went to watch the Ashima boys' basketball game. It was an amazing game and the score was almost tied the whole time. They played VERY hard and should be proud of their effort. It was the last game for three of the 3年生 players, so I'm glad I was able to watch them!
I also saw yesterday's American Football game. The conditions were not good because it was rainy and cold, but the boys tried very hard. Remember, always be genki!
Let me see...other April Events...
The Light Music LIVE concert from 2 weeks ago was awesome!
Also, this month I joined the 3年生 school trip to Mt. Rokko Farm in Kobe. It was lots of fun! :)
That's all for today,
Ali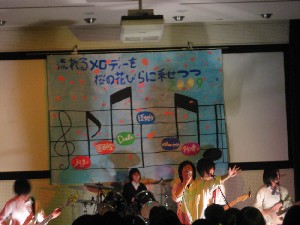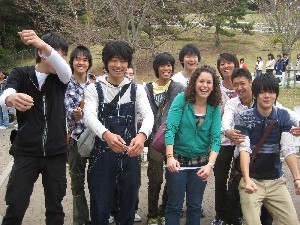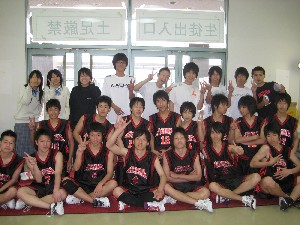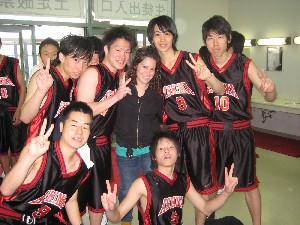 ---
16 It's a new year! 2009年04月15日(水)
Hey Ashima,
A new year has started! Welcome to the new 1年生! I am very excited to meet you all and start our English I classes together.
Last week at the Club Introductions, I joined the English Club (ESS) in a skit and wore a costume...as a new 1年生...I put on an Ashima uniform!!! At my high school in America we didn't wear uniforms, so this was my first time to wear one! To be honest, I was a little bit embarrassed and nervous to be on stage, but it was fun!
Anyway, if you like English and want to play games, listen to music, watch movies, etc...then come join English Club (ESS)! You can be in English Club and another club at the same time. We meet on Wednesdays in the LL Room (4th floor).
See you soon!
-Ali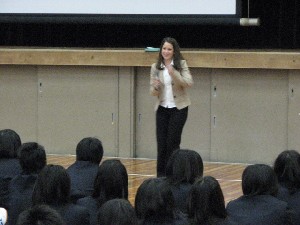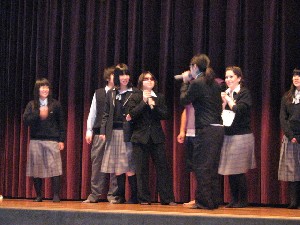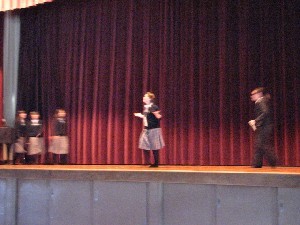 ---
15 Can I join your club?? 2009年03月18日(水)
Hey Ashima!
The weather is getting warmer... I think it is finally Spring!
What will you do for Spring Vacation? Many Ashima students are at school for club activities and extra study lessons. I want to try to join as many clubs as possible...
Let me see... I will make a list!
I have already joined practice for these clubs:
Soccer, Kendo, American Football, Dance, English Club
I want to go to practice for these clubs:
Badminton, Basketball, Track, Softball, Tennis, Table Tennis, Volleyball, Light Music Club, Karate, Sado, Gardening, Art, etc...
When can I join you?? What other club practices can I join? Please invite me!! Thank you!!
See you soon,
Ali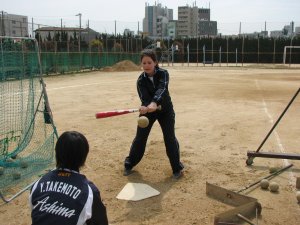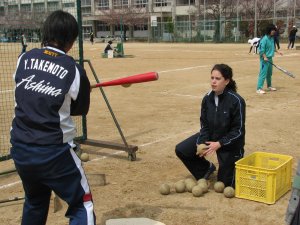 ---
14 Congratulations! 2009年03月09日(月)
To all the Ashima graduates...
Congratulations on graduation! :)
Please come back to visit soon!!
-Ali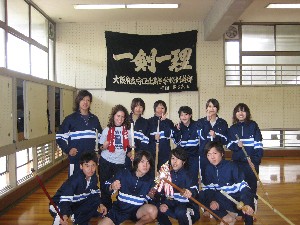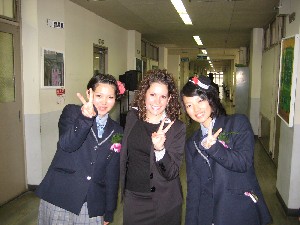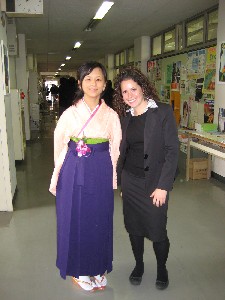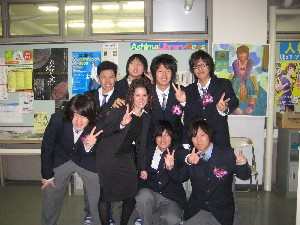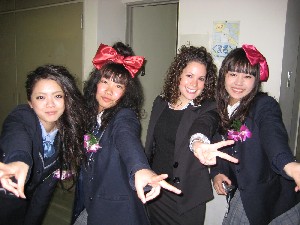 ---
13 Outside the Classroom 2009年02月16日(月)
Hey Ashima!
Recently, I have been able to see and speak to many students outside of class. I think I can really make friends with students that way!
Last week, I watched the Ashima American Football game at Expo Park. Ashima won 34 - 8!
I enjoyed watching the game with some 3年生 students and cheering for the boys.
I also went to the Brass Band's Daisy Concert and had a great time. The Brass Band is a lot of fun to watch and listen to!
On Friday, the English Club had a "Valentine's Day Party" and we gave out chocolate and cards to many students. I had to make an announcement about the party, in both English and Japanese, and I was very nervous! I hope everyone enjoyed their free chocolate :)
Recently, I feel very close to all of the Ashima students. I feel like you are all my younger brothers and sisters! I will miss you all very much when I go back to America...
I can't believe this school year is almost over! Only one more week of classes to go...
See ya later,
Ali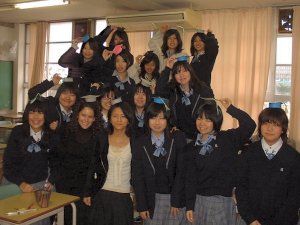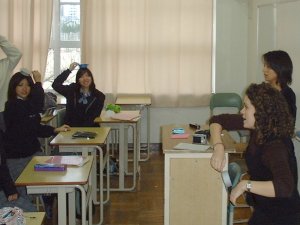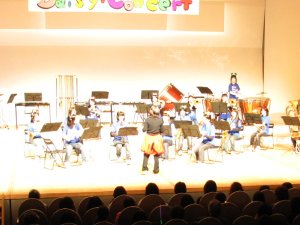 ---
12 New Year: 2009 2009年01月21日(水)
Happy New Year Ashima!
Did you make goals for 2009?
I decided that I will go back to America in August 2009... so I must enjoy and challenge myself during my last 8 months in Japan! I think I will make a list of goals to finish before I leave. For example, I want to visit Mt. Fuji and Hokkaido. Also, I want to continue studying Japanese and learning about Japanese culture!
Please recommend new things for me to write on this list, ok?! :)
See ya later,
Ali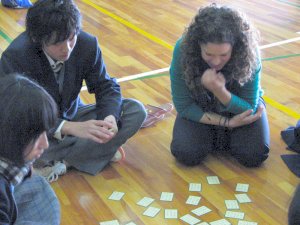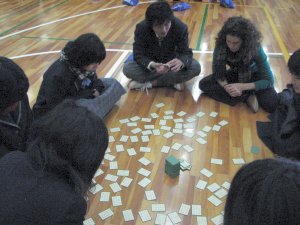 ---
11 Ready for vacation? 2008年12月11日(木)
Hey Ashima,
Sorry I have taken so long to write! Things have been very busy lately, with lessons and exams, etc. Also, last week, I had my big Japanese test, so I have also been studying alot lately!
This month, many 3年生 students have University entrance exams, and it seems very stressful. Good luck to everyone! I can understand how they feel because I am applying for University now also, to study International Relations in graduate school (大学院) next year.
Do you have plans for winter vacation?
I am going to visit Thailand to volunteer in an orphanage (養護施設). I am looking forward to lots of fun in the warm weather :)
See ya later!
Ali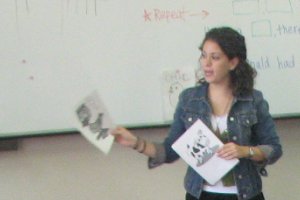 ---
10 Exciting Events 2008年11月07日(金)
Hey everyone,
This week at Ashima was very exciting! First, on Wednesday, we all listened to a moving speech/concert about following our future dreams. It really did made me think about my future!
Also on Wednesday, Barack Obama won the race for President of the United States. It was very interesting to me that Ashima students and teachers all talked about the election!
On Thursday, a group of students from Taiwan came to Ashima. I joined American Football practice, along with 6 of the Taiwanese students. Everyone had fun trying to speak English and Japanese and teach the Taiwanese students about American Football. Of course I really enjoyed it!
Thursday was also 3年生 Sports Day, I played in the biggest game of dodgeball I have ever seen! I am looking forward to 1年生 and 2年生 Sports Days in the next few weeks :)
Until next time,
Ali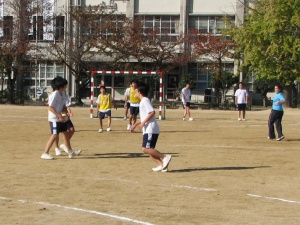 ---
9 Traveling Time 2008年10月17日(金)
Autumn is a wonderful season for traveling around Japan. Since I am living here for only 2 years, I want to try to visit many places. I don't know when I will travel to Asia in the future!
Last month, the 1年生 went to Kyoto for their school trip and I was lucky enough to join them! So, in our English 1 classes, we talked about traveling and learned words like sightseeing (観光), recommend (すすめる), and World Heritage (世界遺産). Students talked about good places to travel in Japan and it was very interesting to hear their opinions!
The 2年生 went to Hokkaido for their class trip. I saw their pictures and heard about their adventures; it sounded like fun! I really want to visit Hokkaido sometime soon.
Last week, I went to Okinawa for a few days to see the beautiful beaches and very interesting culture there. I loved tasting all of the special Okinawa food and drinks! Now I am relaxed, and have a good tan, so it's time to get back to work! ;)
-Ali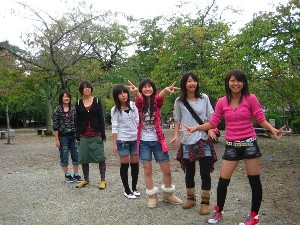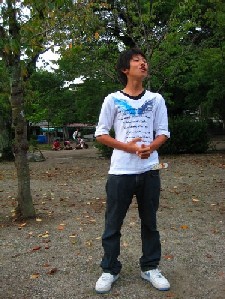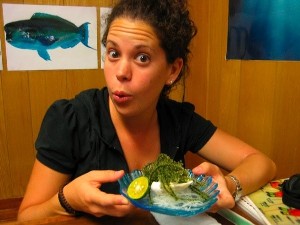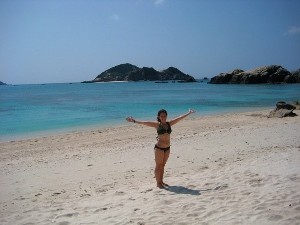 ---
8 Culture Rocks! 2008年09月10日(水)
Ashima's Cultural Festival weekend was a constant buzz of activity on all 4 floors! During the festival, I really wanted to see every show, band, display, and performance, which led to me running up and down the stairs and the halls! Everyone shouting their advertisements helped me choose what to see... "Ali, come see Peter Pan / Cats / Peach Taro / Lion King / Aladdin!!" "Ali, at 1:05PM, don't forget to watch our band", "Ali, did you see the PC club?", "Ali! Body Percussion!,"Ali! Yakisoba!", "Ali! Ali! Ali!". I think I was smiling the whole weekend!
Here are some of my favorite highlights from the Festival:
-The last performance of the 3年生 band クレーバークローバー. They are so awesome!
-I loved watching all the stage shows!! I think my favorite characters were Hook from Peter Pan, Aladdin and Jafar from Aladdin, Simba from Lion King, Belle from Beauty and the Beast, and all the Cats. Everyone was sooo good!
-The Dance Club show rocked, as usual!
-Our ESS room "Let's Travel Around the USA". I had fun bringing in my American items to decorate
-All the 1年生 students wearing yukata
This year's Cultural Festival was different for me from last year's. This time, I could actually understand more Japanese and could recognize all the students that I was watching! :)
Thanks for another wonderful memory, Ashima!
-Ali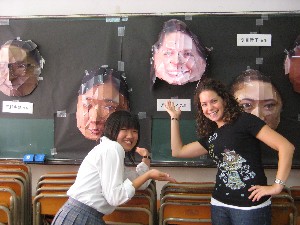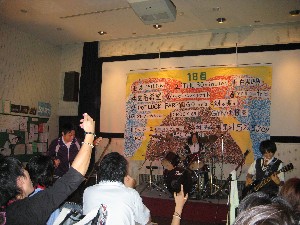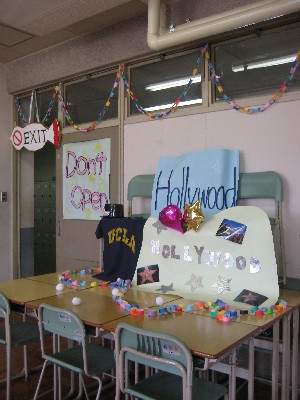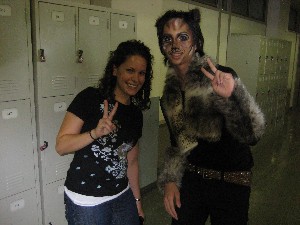 ---
7 Florida Vacation 2008年08月08日(金)
Hey Ashima!
I am home in the USA right now visiting for summer vacation. Florida is great and I am enjoying every day! I have been eating my favorite foods, going to baseball games, shopping, swimming, and seeing friends and family.
My friends and family are very impressed with my stories from the last year about Osaka, Ashima, etc.
I am excited to come back and am bringing lots of omiyage :)
See you soon!
-Ali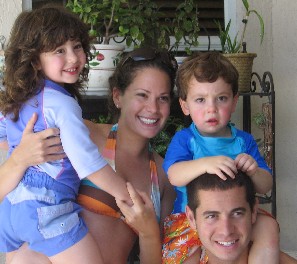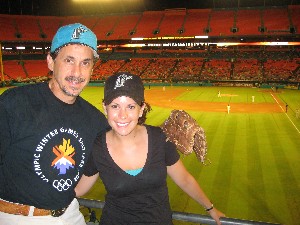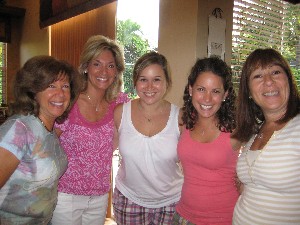 ---
6 Yukata in Summer 2008年07月10日(木)
Hey Ashima,
Last week, I wore a real yukata for the first time! I was very excited to try it on and see if I looked at all like a Japanese girl. Nakashima Sensei and Inui Sensei helped me to put it on. It was difficult to walk at first, and I couldn't sit in seiza for more than 10 minutes, but it was lots of fun! :)
Enjoy the pictures,
Ali
PS - What do you think? Do I look like a Japanese girl? :)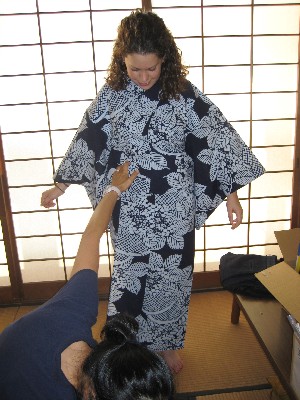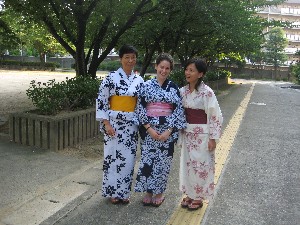 ---
5 Bring on the Baseball 2008年07月04日(金)
One of my favorite things to do during the summer is go to baseball games. In Florida, my home team is the Florida Marlins, and my favorite player is Dan Uggla! The Marlins play in a stadium in Miami, about a 30 minute drive from my house. Also, when I lived in Atlanta for 4 years of University, I often used to go to Atlanta Braves games with my friends.
I love going to games with my Dad and brother or my friends, buying snacks and drinks, and relaxing in the big plastic seats. The game of baseball takes patience, and I really enjoy watching the game being played. Of course, I also like to cheer for my team, but I think MLB games are a little different from NPB games!
This year, I have been able to go to 2 Hanshin Tigers games, one at Kyocera Dome and one at Koshien Stadium. Koshien reminded me of stadiums in the USA, it was just beautiful! During the Tigers game, I had to eat, drink, sing, clap, yell and blow up balloons, all at once! I was very busy the whole time instead of relaxing to watch the game! Tigers fans are really spirited and have lots of energy. I loved it! I am definitely a Hanshin Tigers fan now, and my favorite players are Toritani Takashi and Kanemoto Tomoaki!
The Marlins and the Tigers are BOTH doing well this year so hopefully... see you in the playoffs!
This ball is "OUTTA HERE",
Ali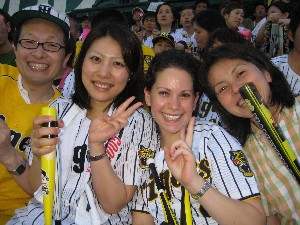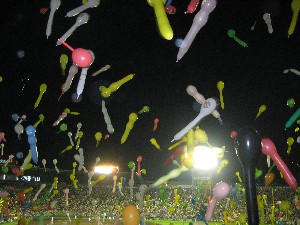 ---
4 Holiday in Hiroshima 2008年06月27日(金)
Two weeks ago, I visited Hiroshima for the first time. My family and friends were very interested to hear about my experience as an American there. So, I thought I could share it with you too.
I studied about World War II in my classes at University and know about the tragic world events of 1945, including the Atomic Bomb. I read the book "Sadako and the Thousand Paper Cranes" as a child. Still, I didn't know how I would feel when I visited the sights of Hiroshima in person. I was not sure what to expect from the memorial reminders like the A-Bomb Dome, Peace Park, and the Children`s Peace Monument.
I found that Hiroshima is an exciting waterfront city with a strong sense of pride. I was most moved to see the city's pride in its legendary streetcars. I learned that just 3 days after the Atomic Bomb, Hiroshima's streetcar service resumed working. I was able to take these convenient streetcars all over town. It seemed that everyone was very used to seeing foreign visitors on them!
I really enjoyed my trip to Hiroshima, and also loved visiting beautiful Miyajima in the same weekend!
There are still so many places in Japan that I want to visit!
-Ali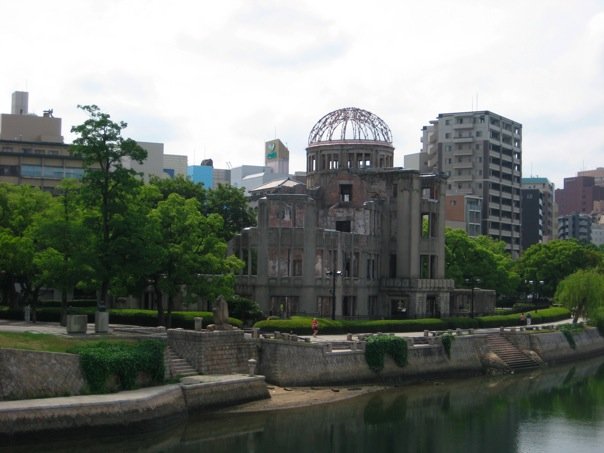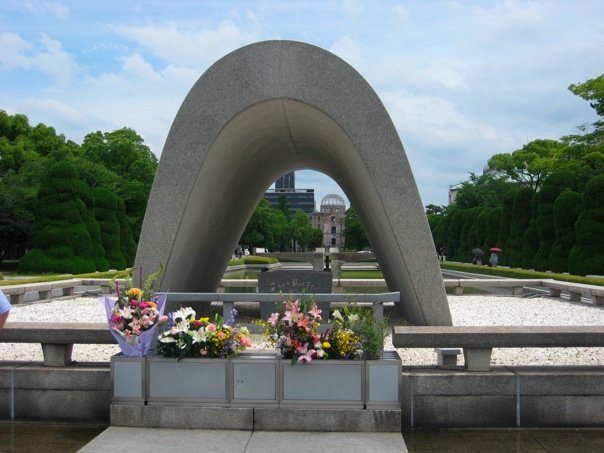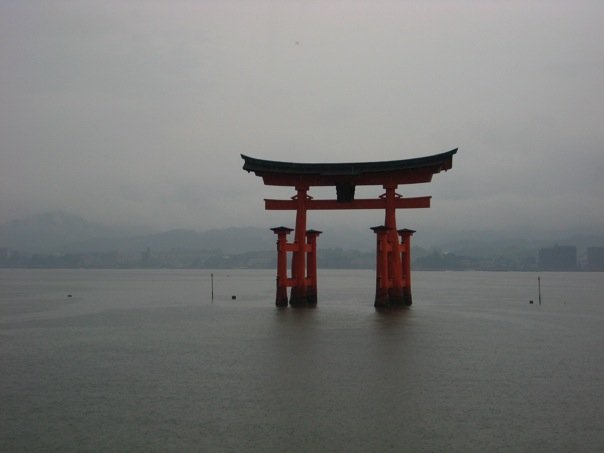 ---
3 Awesome Activities 2008年06月19日(木)
Hey Ashima,
Most afternoons, you can see me around school looking for a club, team, or activity to join. I always like to try new activities; I have many to choose from because Ashima students are very well-rounded!
Last Friday, I joined Track and Field practice. It was fun to run with the team, but it was also very tough! I also joined a Kendo class, which was both interesting and challenging. This week, I went to Basketball practice and I also joined a Food Design class. I was very busy but had a great time!
I am very impressed with all of Ashima's club activities. Students in music clubs practice their instruments individually and help teach each other. The art, computer, and dance clubs also meet everyday to produce great work. The sports teams practice for many hours everyday, in hot or cold weather, and play together to get stronger. Team captains and managers are always organized and hardworking. While I am working at Ashima, I want to try to play with, watch, listen, or try every club and team!
Well, it's time to go choose today's activity!
See ya,
Ali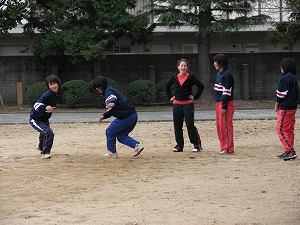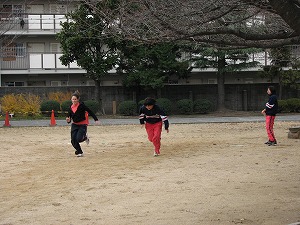 ---
2 Sports Festival and more... 2008年06月12日(木)
Hey Ashima!
Last week's Sports Festival was fantastic! I had a great time and I was moved by each team's spirit and emotion. The dance performances were very exciting to watch (and join in)! Congratulations to Team Blue on their win.
During the week of Sports Festival, my English 1 classes talked about the Olympics. We had our own Olympics in class! Students played Olympic Sports Karuta and more; they made teams named for different countries. The winning teams sang "We Are the Champions" by Queen. :)
This week in Oral Communication, our topic is Study Abroad. Today, we talked about differences between Ashima High School and high schools in the USA, Canada, Italy, and Australia. I think it is very interesting to compare the class schedules, homework, and school events at Ashima to my high school in Florida! For example, we did not have Sports Festival at my school.
Summer is here and the weather is getting hotter everyday. I must make my English lessons very exciting to "beat the heat"in the classrooms!
Well, that's all for today!
See ya,
Ali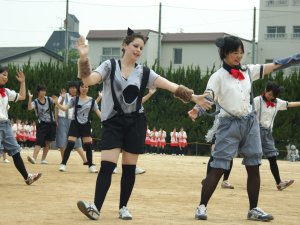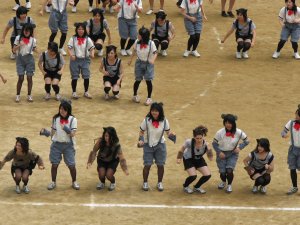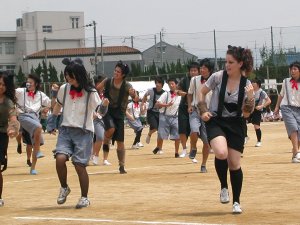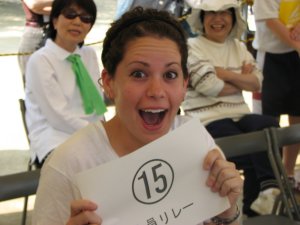 ---
1 Hi! 2008年06月02日(月)
What's up Ashima?
This is Ali! Welcome to my page, where I will write about my experiences at Ashima and my life in Japan. Check often for updates!
I came to Japan from America in August 2007. I have adjusted well and I love living in Osaka! I have many ALT friends from different countries like England, Ireland, Canada, Australia, New Zealand, and America. It is fun to be so international!
Of course, my favorite part of living in Japan is Ashima High School! I am very lucky to work at such a wonderful school. All of Ashima's teachers are so helpful and kind. Everyone always smiles and says "おはようございます!"to me. I think it is a great way to start every day!
Ashima High School students are cool, smart, and alot of fun to be around. I am always very げんき during my lessons because I truly love teaching every student at Ashima!
This Friday is Ashima's Sports Festival, and I am very excited! All of the students have been working hard to prepare for their dance performances. Team Black asked me to join them for their dance, and I can't wait!
Well, it's time to go prepare for my next lesson!
See ya,
Ali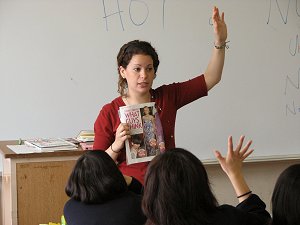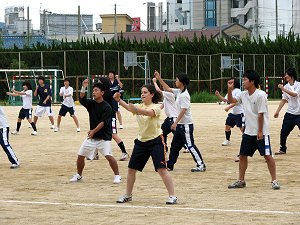 ---