Students' individual schedules can be designed at will.
There is free selection among a multitude of subjects offered by Ashima SHS.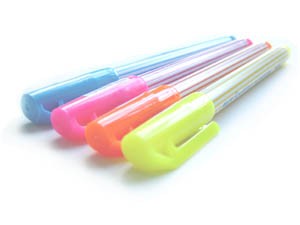 "Industrial Society and Human Beings" is one of requisite subjects of the 1st grade. In this class, students sometimes undergo work experience or interchange outside of school, in order to determine their future goals. This subject is invaluable in helping students decide which subjects to select in the 2nd and 3rd grades. Each individual student is given careful guidance by the teachers of this class. Afterwards, students are able to plan their own timetables, according to their best interests.
ASHS presents 5 groups.
Science and Technology Group
This group puts special emphasis on mathematics, science and environments.
Students can study the theories and laws of nature, predominantly through experiments.
This group is well suited to students who aim to study science in University.
(subjects) computer-aided design, mechatoronics (basic), global environmental science, electronic manufacture (basic), computer programming (basic)
Culture and Social Studies Group
This group puts the emphasis on Japanese, history, geography, politics and economics.
Ashima SHS offers subjects for those who are interested in literature of Japan and the Kansai area ( KAMIGATA), history and culture.
(subjects) reading novels, Japanese culture and history, politics and economics in ordinary lives, women's history, Japanese tradition
International Understanding and Communication Group
This group puts the emphasis on English, international relations, world history and geography.
This group suits students who plan to master English and have a strong interest in world culture and history.
(subjects) world culture and history, English comprehension (basic), English grammar (basic), English conversation (basic), screen English
The Media and Creativity Group
This group puts the emphasis on expression; such as art, design and the picture.
Students study various methods of expression with multi-media.
(subjects) visual design, painting & sculpting, drawing, craft design, computer graphics, computer audio
Life and Health Group
This group puts the emphasis on nursing, welfare, sports, life and child-care.
There are many subjects for students who aim to be nurses, and who are interested in sports and social welfare.
(subjects) counseling, nursing (basic), welfare (basic), sign language, sewing and hand-craft, new sport, outdoor recreation
Optional Subjects
These subjects are offered with the intention of increasing students' abilities in the preparation for University Entrance Examinations.
Some subjects are also available for study towards the attainment of certain licenses.
(subjects) Japanese short essay, Japanese classics 1, mathematics, physics, course for English proficiency test, course for bookkeeping proficiency test